Knowlegable creative professionals
Working with AXS Studio, you benefit from a dedicated, long-standing team of life science communication professionals: medical writers, certified medical illustrators, medically-trained animators and interactive developers. We all share a passion for art, science and helping our clients tell their stories. And clients value the scientific knowledge, flexibility, and insights we bring to each campaign.
Leadership in medical science visualization
Are you looking to differentiate your messaging from the competition? Since 2004, we've been pioneering the way in which medical science stories are told. We leverage advances in digital media and human-computer interaction to create eye-popping visual content and unique experiences that make our clients stand out from the crowd.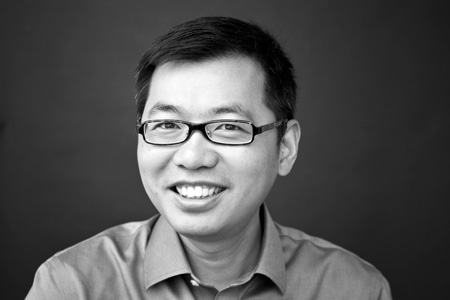 Eddy Xuan
Creative Director, Co-Founder - BEng, MScBMC
Eddy has a knack for converting tough visualization problems into stunning 'aha' moments. With 17 years experience in computer animation, Eddy has a deep understanding of the creative production process, is a gifted technical problem solver, and visionary artist. For our clients, this means that no visualization challenge is too big, and the results are always exceptional. For evidence, look no further than our show reel. Prior to founding AXS, Eddy worked as VFX lead and CG supervisor on numerous film and TV productions. For 7 years he taught medical visualization at the University of Toronto.
Medical Animation | Medical Illustration | AXS Studio
Sonya Amin
Director, Client Services, Co-Founder - BSc(Hon), MScBMC
Looking for a logistics pro who understands your needs and consistently proposes solutions that exceed them? Sonya approaches each project with creativity and pragmatism. Hand Sonya your 100+ slide, all-text PowerPoint deck and watch her get giddy with excitement. She simply lives to see your science story come to life through bold, compelling, to-the-point, animations. Feel confident, taken care of, and in control. Plan for your project to arrive on time, on budget and with killer graphics. Sonya never forgets that she only looks good when you look fabulous. The trust Sonya instills in our clients is a key reason they continue to work with AXS.
Medical Animation | Medical Illustration | AXS Studio
Jason Sharpe
President, Co-Founder - BSc(Hon), BFA, MScBMC Certified Medical Illustrator (CMI)
Jason has a relentless ambition to make every creation get noticed and is passionate about helping our clients achieve their objectives. With a combined background in science and visual communications, he brings a unique, multidisciplinary approach to every project. The result is visual solutions that integrate scientific accuracy and artistic beauty to deliver key messages that are clear and memorable. In his 15 years as a creative professional, Jason has helped clients from HP to Ford to Amgen successfully market new projects, has won numerous awards, authored a book on biomedical visualization, and helped develop AXS Studio into a leading biomedical communications company, as demonstrated by AXS' long-standing client relationships.
Medical Animation | Medical Illustration | AXS Studio
Katie McCormack
Senior Art Director - BA, MScBMC
Need help identifying and communicating the messages that will resonate with investors, HCPs and their patients? Katie brings a collaborative approach to biomedical content development and strategy for a broad range of digital media projects, from animation and illustration to apps and educational games. With nearly a decade of experience as an animator and art director in the healthcare space, Katie's passion for working with researchers, product managers, and other stakeholders effectively translates science messages into compelling visual and written content with award-winning results.
Medical Animation | Medical Illustration | AXS Studio